OLD CareRing deliveries
Rampton CareRing - Deliveries and essential services from local businesses

We are doing our best to keep this list of local businesses who have said that they can deliver to Rampton up to date - some will only deliver to those in isolation, others to anyone. Please check each entry. The list of suppliers is fairly fluid and changes frequently so please check back regularly and help us to help you by letting us know if anything has changed.
GROCERIES
Raised in Rampton

D

elicious fresh baked breads, rolls, tarts and more made to order by our very own village micro bakery.

See website for full list of products.

Order online or text Alice on 07931 635564‬.

Payment online, by BACS, card, or cash.

FREE late afternoon deliveries in Rampton, Tuesdays - Fridays.

Barkers Bakery

deliver Bread Boxes £10, free delivery to Rampton. Box contains: Bread, rolls, hot X buns, loaf cake, mini quiche. Email

[email protected]

before midday for next day delivery. Fancy a treat? They also have High Tea Boxes to be delivered to your or a loved one's door. £15
, allow 48 hours delivery. Monday - Friday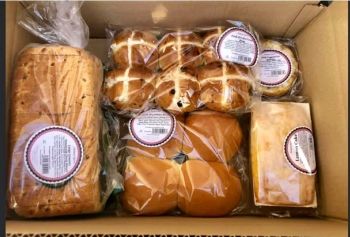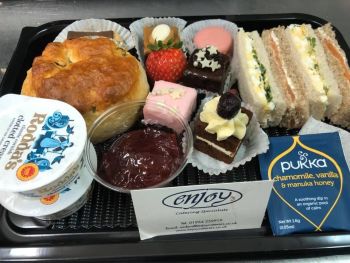 NEWSPAPERS
Shaun's newsagent in Cottenham has agreed to do a one drop delivery service for Rampton. Rampton CareRing will arrange payment from you and deliver papers to your door. Please place your order as soon as possible to

r

[email protected]

or call Greta on 01954 252230. Please give your name, address, telephone number, name of the paper you require and the days required.
TAKEAWAYS
The Golden Wok

, Histon Road Cambridge deliver to Rampton (evenings only). Order online or call 01223 350688
GARDENS

Oasis Nursery

i

n

Willingham are closed during January but will deliver when they re-open in February to those isolating or shielding. Shrubs, vegetable plants, bedding plants, perennials, bamboo, indoor plants, succulents, climbers, ferns, herbs, Topiary, fruit and veg plants, grasses, pots, and compost. Minimum order £20, no delivery charge.
PHARMACIES
Cottenham Well Pharmacy

Opening hours are now Monday - Friday 9.00 - 12.30, 14:00 - 18:00, Saturday 09.00 - 13.00



Willingham Pharmacy

have a FREE prescription delivery service (Tuesday and Friday afternoons) to all patients over 70 and to people who have self isolated. Call 01954 251867 for further details. They will also deliver over-the-counter medication at the same time (pay by BACS or card over the phone). Opening hours are Monday - Friday 08:30 - 13:00, 14:00 - 18:00



ACCIDENT & EMERGENCY

Ely Minor Injuries Unit (MIU)have extended their opening days and hours. The Ely MIU is based at the Princess of Wales Hospital and can treat minor illnesses and injuries such as sprains and strains, broken bones, minor burns and scalds, minor head and eye injuries, cuts, bites and stings.

They are now open every day 08.00 - 22.00 with

X-Ray services available between 08.00 and 20.00.


Hinchingbrooke Hospital

24-hour Accident and Emergency every day

Addenbrooke's Hospital

24-hour Accident and Emergency every day
GARAGE
Rampton Motors open as usual:

Monday: 8.00 am to 4.00 pm

(closed 1.00 to 2.00)

Tuesday: 8.00 am to 4.00 pm (closed 1.00 to 2.00)

Wednesday: 8.00 am to 4.00 pm

(closed 1.00 to 2.00)



Thursday: 8.00 am to 4.00 pm

(closed 1.00 to 2.00)



Friday: 8.00 am to 4.00 pm

(closed 1.00 to 2.00)




Saturday, Sunday: CLOSED
Call 01954 250792‬ to book in for all usual work. If fuel required please pull up at the pumps and remove your filler cap. You will then be served as normal. Credit and debit cards as normal or contactless and Apple Pay to £45. No cash.

TAXI
Woody's Cars taxi service 07305 063731

Other information which may be helpful
PDF files require Acrobat Reader to view. If you do not have this package you can download a copy of Adobe Acrobat Reader free of charge by clicking here.